A Brief History of IIASA and Schloss Laxenburg – Venues of the 2022 Scenarios Forum
International Institute for Applied Systems Analysis (IIASA)
After the Second World War, it became increasingly evident that a growing number of complex scientific and technological problems could no longer be examined on a purely national basis. A global approach through international cooperation was required. In October 1972, representatives of the Soviet Union, United States, and 10 other countries from the Eastern and Western blocs met in London to sign the charter establishing the International Institute for Applied Systems Analysis (IIASA). It was the culmination of six years' effort by US President Lyndon Johnson and USSR Premier Alexey Kosygin, and marked the beginning of a remarkable project to use scientific
cooperation to build bridges across the Cold War divide and to confront growing global problems on an international scale. Breaking down the barriers between nations and disciplines, IIASA built international interdisciplinary teams that used advanced systems analysis to study innumerable global challenges, both long-standing and emerging.  The refurbished Schloss Laxenburg near Vienna was made available by the Austrian government shortly after the foundation of IIASA in 1972. The Schloss has been the Institute's home for nearly four decades. When the Cold War ended the Institute remained and, in the 1990s broadened its mandate to achieve a greater global focus.
©IIASA Academician Jermen Gvishiani, one of IIASA's founding fathers.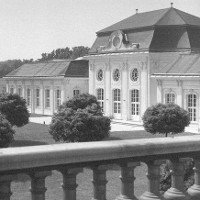 Today IIASA brings together a wide range of scientific skills to provide science-based insights into critical policy issues in international and national debates on global change.
IIASA is sponsored by its National Member Organizations (NMOs) in Africa, Asia, Europe, and the Americas. Its research is independent and completely unconstrained by political or national self-interest.
Schloss Laxenburg
Laxenburg is about 15 km from Vienna. The town's roots go back to the 13th century when it was used for hunting and fishing trips by the imperial Habsburg family. The site occupied by IIASA dates back to the 15th century when it was a community farm. The building which houses IIASA stands on the site of one of Laxenburg's three castles: the Blauer Hof (Blue Court), named by one of its owners Sebastian von Bloenstein (blue stone) at the beginning of the 17th century.
In the early 18th century, it was owned by Friedrich Karl Graf von Schönborn, the Vice Chancellor of emperors Joseph I and Karl VI. Schönborn commissioned the renowned Baroque architect, Johann Lucas von Hildebrandt, to extend the Blue Court. Parts of Schönborn's facade, including the park side of the northeast wing, still exist.
In the mid-1700s, the building came into the possession of the imperial family and was enlarged to its present size under Empress Maria Theresa. Together with the Palace of Schönbrunn, closer to Vienna, it became a summer retreat of the Habsburgs.
During and after the Second World War, the Schloss fell into a state of disrepair. From 1972 to 1981, it was completely renovated for IIASA. The Conference Center Laxenburg emerged from the former château theatre with its adjoining rooms and the imperial dining halls where Maria Theresia and her Court once enjoyed theatre productions and culinary delights. The Republic of Austria and provinces of Vienna and Lower Austria transformed the theatre into a unique conference centre during the renovation of the dilapidated château. Today, the Conference Center Laxenburg is a popular meeting place. The combination of historic atmosphere and modern technology give this ancient building its own special charm.
For more information visit https://iiasa.ac.at/about-iiasa/institute/history and https://www.event-residenzen.at/en/history-conference-center-laxenburg/